OI • HELLO • HOLA
31 Michelle Silveira de Moraes Street
(formerly called Professor Renato Garcia Street or 33 Street)
CEP 24346-120 - Camboinhas
Niterói - Rio de Janeiro - Brasil
reservas@casadasjanelasazuis.com.br
+55 21 2619-5808
+55 21 98228-5808 whatsapp

LOCATION
A truly privileged location just steps from Camboinhas beach, in the most quiet and reserved neighborhood of Niterói.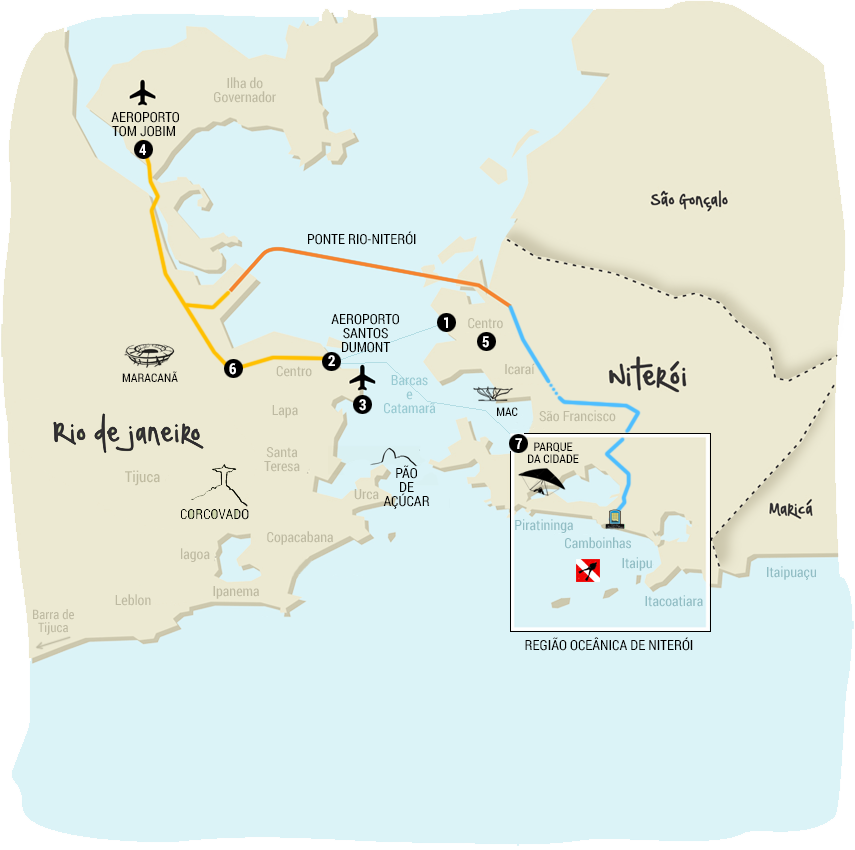 OPEN IN GOOGLE MAPS

DOWNLOAD PDF MAP

HOW TO GET HERE

Airports
The nearest airports are in Rio de Janeiro (Santos Dumont and Galeão), see transfer services to the Pousada.

Ferry
The Ferries connect the Center of Rio de Janeiro (Praça XV) to the Center of Niterói (Araribóia Square). The Catamarans, instead, connects the Center of Rio de Janeiro to the neighborhood of Charitas. Whether from Downtown or Charitas, there are a lot of buses and taxis options.

Bus
Camboinhas does not have bus lines that goes into the neighborhood, but they stop at the Almirante Tamandaré avenue, at the entrance of Camboinhas. The lines are: 39, 39A, 39B, 54, 55 e 55A.
Coming from Rio de Janeiro's downtown (via Ponte Rio-Niterói (Rio- Niterói bridge), there are two options that stops at the Almirante Tamandaré Avenue, at the Piratininga intersection, such as 1910D (Castelo – Itaipu), 770 (Castelo – Itaipu). From the Entrance of Camboinhas to the Inn is about 1,4 km walking, or 2km from the intersection.

Taxis and Mobile Apps (Uber)
Give preference to the taxi cooperatives of Niterói or download the app and check out the best rates.
DISTANCES
Center of Niterói - Araribóia Square (Ferries station)
18 km
Center of Rio de Janeiro (Praça XV)
35 km
Santos Dumont Airport
37 km
Tom Jobim Airport (Galeão)
40 km
Roberto Silveira Bus Terminal
18 km
Novo-Rio Bus Terminal
32 km
Charitas Catamaran Station
15 km